Making It Work On The Coast | S3 E2 "Pratt Farm"
What's it like to live on one of Gibsons' most iconic farms? I caught up with Chris Kelly, the co-owner of Pratt Farms, to learn more about this gorgeous property, which has just been put on the market (check out the listing).
Pratt Farm is located on a 9.75-acre parcel of land between Pratt Road and Mahan Road. The stunning property boasts two man-made lakes, two orchards, a six-bay workshop, stunning landscaping and a wide variety of produce and fruits.
The farm is a staple for many people in the Gibsons community, who stop by for a visit or to purchase fresh farm produce from the on-site market stand.
"The property is so visible and it's in people's consciousness," Chris muses. "They drive by and they say: 'Oh I was just thinking of you today as I was driving by your property.'"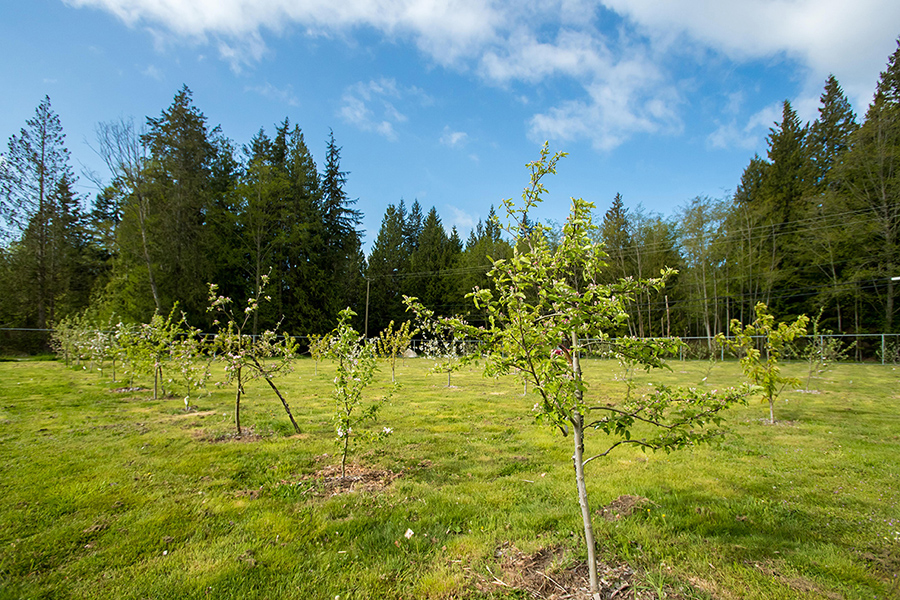 So, how does one come into possession of such a gorgeous property in the first place?
Funny enough, when they first laid eyes on the property that would become Pratt Farm, it was more of a diamond in the rough versus the expansive, lush orchard we see today. It took expert eyes to see beyond the junkyard it was and craft a vision for its true potential. The pair put a lot of sweat equity into clearing and levelling the land and planting a variety of produce and fruit trees. It turns out that the southern light on the property and nutrient-rich soil at the base of the mountain yields perfect growing conditions—especially for apples.
Their dream was to not only have a small farm, but to turn it into a cidery too—hence the 500+ Heritage apple trees! Additionally, the orchards contain sought-after and rare Perry Pear and sour cherry trees for an extra pop of flavour.
Since 2013, they have tended to the land and connected with the community while doing so. Chris explains that they originally began selling product to help make use of the huge property. One of the advantages to this is that they gained farm status and were eligible for tax rebates and write-offs. Over the years, however, the pair (and their farm) have become woven into the fabric of the community.
Chris and his partner originally moved to the Sunshine Coast in 2012, having left the vibrant West End of Vancouver.
"What we didn't have in the West End was community. There is so much community here. This is what I find over and over again," says Chris. "People say they've won the lottery here because you have a great place and a pristine environment with mountains and oceans, but you also have this amazing community that cares for you, that supports you and looks out for you and vice versa. It's just a really great way to age and evolve."
Pratt Farm has built community in unexpected ways, like the time a local beekeeper approached them to house her bees on the land. Pratt Farm is now home to some 35 beehives during peak season, which is a win-win for pollinating crops and for bringing fresh, local honey to the Sunshine Coast
I asked Chris what surprised him most about the property:
"When I have guests come over, it is literally three minutes to walk to Starbucks. And yet, you're in this secluded area. You're in this area where there's just trees all around you. You'll never believe there's three liquor stores five-minutes away (thank God) and you'll never believe there's a Starbucks. The whole town is literally at your doorstep and you're not seeing any of it from where you are. It's such a prime location."
With its size, growing potential and the incredible groundwork that has already been laid on this property, there is plenty of opportunity to expand both the personal and commercial usages of this land.
"What I've learned about people on the coast is that people want to cobble together a life here. It's not just one thing they want to focus on. They want to wear several hats," says Chris. "This is really a great way to develop a life is to have not just one thing happening on the property, but several things. You could rent some space on it, you could do a Bed and Breakfast on it, you could do a U-Pick and have families come in and pick apples, you could open up a bakery and have all the ingredients for pie and jam. There are just so many different ways to cobble together a life here on Pratt Farm."
With a versatile property like this, the sky 's the limit!
Interested in learning more about Pratt Farm? Contact me and let's chat!